GARAGE ORGANISATION
RYOBI TEAM
27 MARCH 2022

TAKE BACK THE SPACE YOU'VE LOST OVER THE YEARS WITH OUR HANDY GARAGE ORGANISATION TIPS. RE-ORGANISING YOUR GARAGE IS A GREAT PROJECT TO TACKLE OVER A LONG WEEKEND.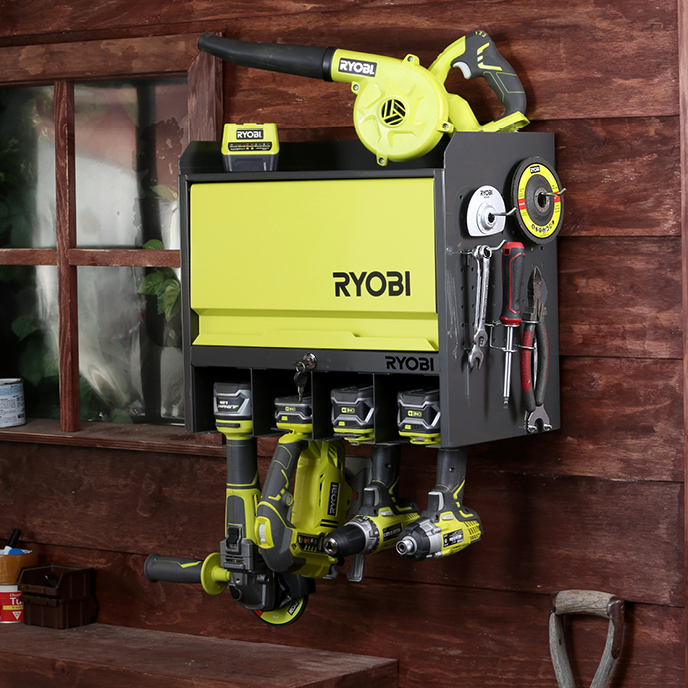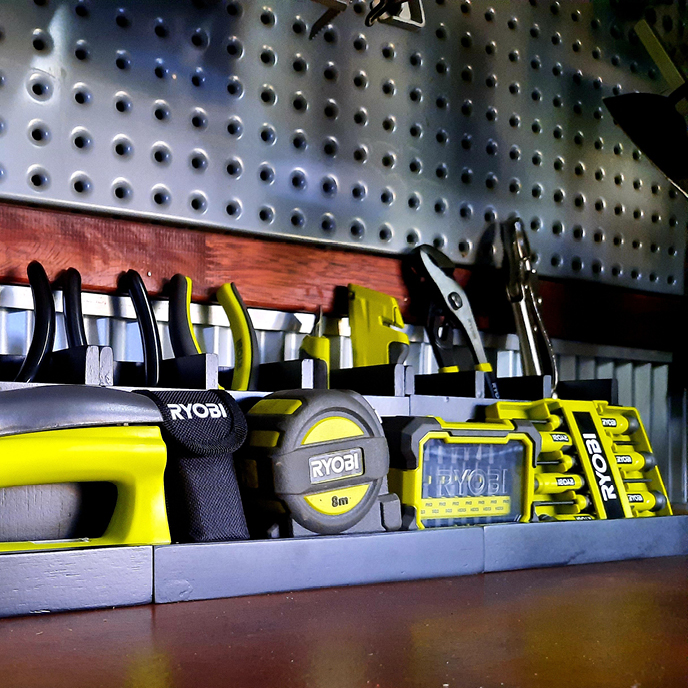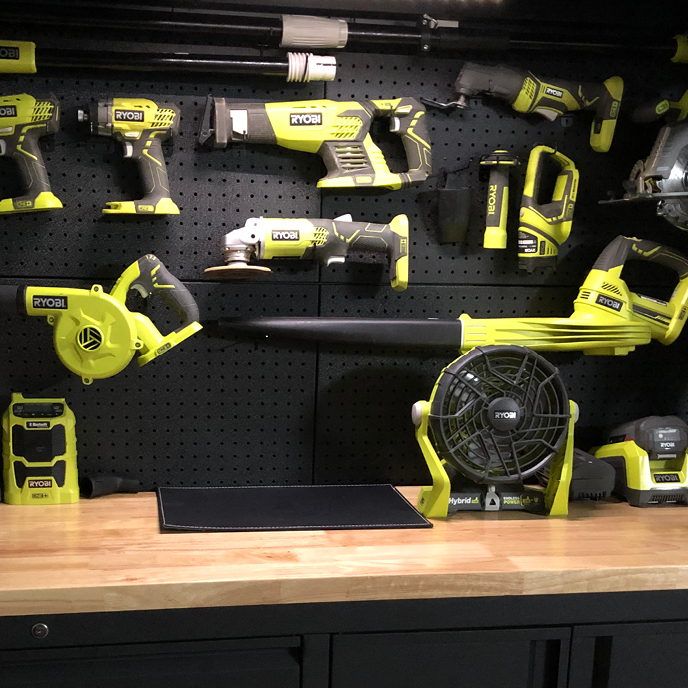 TAKE BACK YOUR GARAGE!
Many homes in Australia can't fit cars in their garages because of all the 'other items' stored in that space. A long weekend affords you the perfect opportunity to declutter your garage and turn it into really useful space – hey, you might even get the cars back in there!

Here are some tips on getting the garage 'sorted'.
SORT YOUR STUFF
Spend the first day of the long weekend sorting through what you have. Categorise it into three piles – 'keep', 'donate', 'bin'. Once you only have all the stuff you want to keep, determine the best ways to store them.
MAXIMISE FLOOR SPACE
Vertical storage units, like racks, are a great and inexpensive way to regain some floor space and have visibility over what you are storing. Build your own timber racking out of construction pine and MDF or plywood shelves. Make sure you anchor these to the wall to ensure they don't tip forward. You'll need a hammer drill for fixing into brick walls, a drill driver and circular saw for creating the structure.
SHELVES, TOO.
Shelves mightn't hold as much as a rack but they still get things off the ground and, hopefully, out of the way. Just don't have them too high that you can't see what's on them or risk dropping items when trying to retrieve them. Make sure the shelf material is thick enough so it doesn't sag in the middle between your brackets holding it up. It's important to fix the brackets securely to a brick wall or studs in a timber framed wall. Use a stud finder to locate the timber easily or an SDS drill to create the right size holes in bricks.
DRAWS OR NO DRAWS?
The saying: "drawers are where items go to die" is only partly true. A good labelling system on each draw or tub in a unit will let you know exactly what is in each one without having to open them. Keep your labels in place with a glue gun.
USE THE CEILING
Some garages have high ceilings, which can be utilised for overhead racking. Making sure that you fix them sturdily to rafters with a drill driver and long screws, they can be designed to hold everything from kayaks to timber offcuts.
THE FAMOUS PEGBOARD
Every workspace deserves its own pegboard – after all it's the best place to hang your tools (especially RYOBI ones). Fix this securely to a wall where you will have easy access and won't have to reach far or over extend to place or retrieve tools.
WEEKEND WORKSHOP
While the garage might house cars from Monday to Friday, many DIY-ers turn their garage into a workshop on the weekends. There are many space-saving workbench plans on the internet – including workbenches that fold away flat against a wall when you're not using them. These are great to place directly under your pegboard. You'll need basic power tools, like a hammer drill for securing it to a brick wall, a circular saw to cut timber to size and a drill driver to fix it all together.
HANG ON …
A hanging unit that houses power tools, batters, chargers and accessories is another great organisation idea. And RYOBI has the perfect solution – the Hanging Wall Storage unit – with or without a lockable door.
Another great space-saving system is a row of hooks. Grab a length of timber thick enough to screw in sturdy hooks or specific hanging devices, like bicycle hooks. Even large nails or screws can be used to hang garden implements or bags. Make the row of hooks as long you need or have more than one row where you can group items. You'll need a saw and drill driver for this task.
A STAND-UP MOWER
Another reason to buy a cordless lawnmower is that they can be stored vertically, saving a lot of space in a 'tight' garage or shed. Screw in a hook above where the mower stands to hang the catcher.
ADMIRE YOUR HANDIWORK
Now, hit the road for quick for a quick outing and enjoy the fruits of your labour when you return and park that car back in the garage where it belongs!