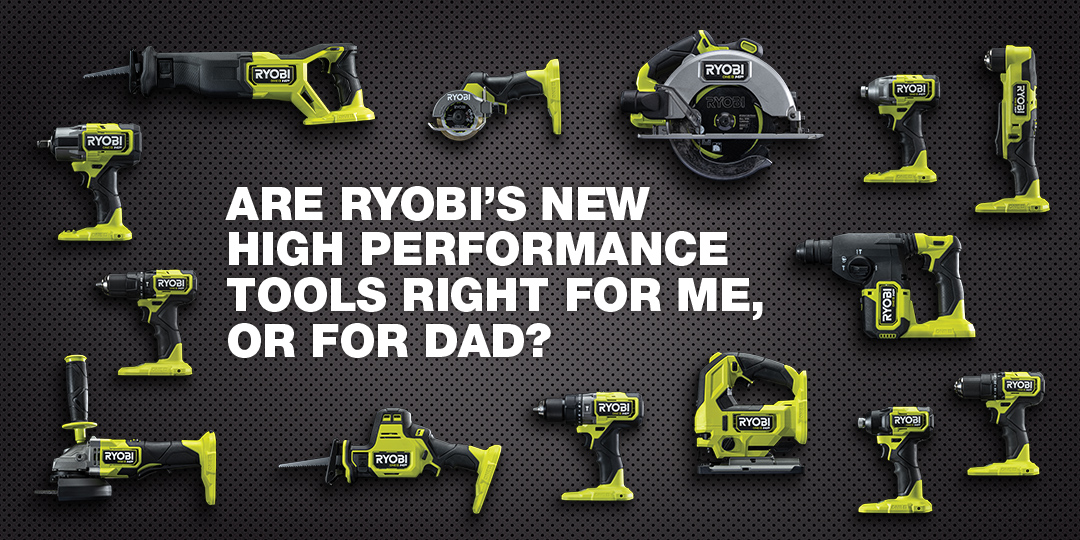 FIGURE OUT WHICH OF OUR NEW HPTM TOOLS ARE RIGHT FOR YOU AND YOUR DAD!
RYOBI TEAM
13 AUGUST 2021
Home improvements and DIY projects are such a big part of Kiwi culture, especially for all the fathers out there who enjoy tinkering away in the home or backyard. So to help you and dad with your next big home reno, we're going to take you through the latest tools in the HP
™
Series. Let's get cracking!
18V ONE+ HP™ BRUSHLESS MID TORQUE IMPACT WRENCH.
All you rev-heads out there will know the value of a solid impact wrench when working on, in, or around your cars and motorbikes. But this tool is also great for any job where you're fixing coach bolts, so if you're working with timber for example, this tool will make sure you don't drive the coach bolt too far in.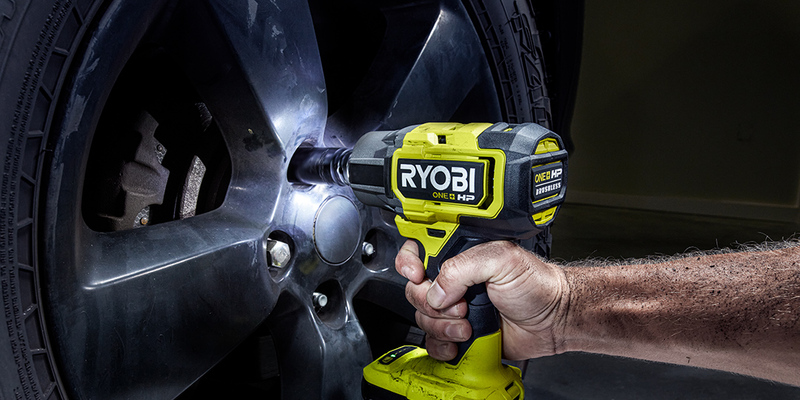 18V ONE+ HP™ ANGLE DRILL.
Our brushless Angle Drill can help you get into all those nooks and crannies, so you might want to keep this one in mind for kitchen or bathroom fix-ups. With a built-in LED light and up to two times more torque than on our previous brushed model, this tool will help you get the job done.
18V ONE+ HP™ BRUSHLESS SDS ROTARY HAMMER DRILL.
Coming soon, This one's great for some seriously hard yakka outside. If you've got to drill deep or make a tonne of holes in concrete, bricks, or masonry, then the Brushless SDS Rotary Hammer Drill will be your saviour. It produces 2.5 Joules of impact energy, which is a lot like the combined power of a drill and sledgehammer!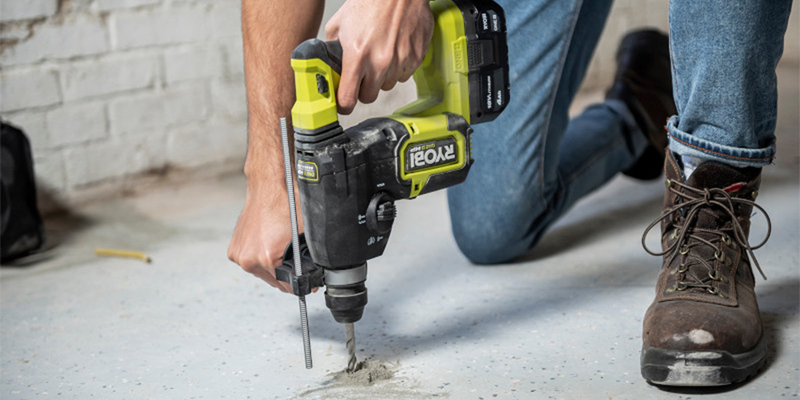 18V ONE+ HP™ BRUSHLESS COMPACT DRILL DRIVER.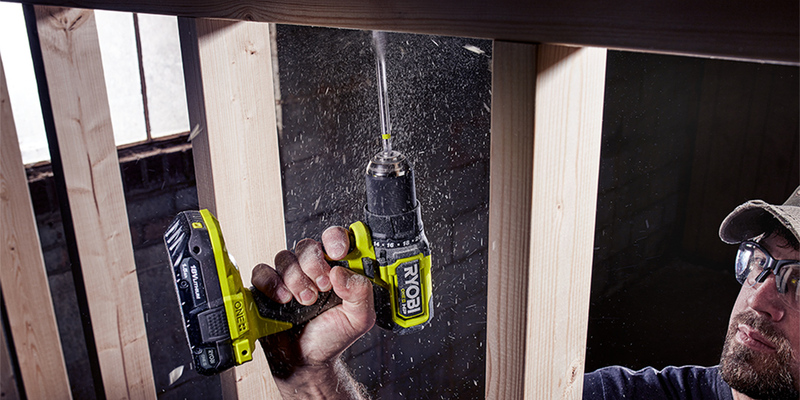 Coming soon is our new Brushless Compact Drill Driver: the most versatile power tool you'll own. You can use it to put things together, take them apart, tighten, loosen... you name it. For all you regular DIY-ers, consider this as your most high performance tool for timber applications, furniture, working under your car bonnet, tricky spaces, and any other jobs a skilled DIY-er would undertake. Grab one of these for dad, then ask for a lend of it when you're game enough to start building that kitchen table you were talking about at last year's Father's Day lunch...
18V ONE+ HP™ BRUSHLESS CIRCULAR SAW.
Also coming soon is our new Circular Saw with an impressive 4,500 RPM. So, when you're finally ready to start building that kitchen table, grab this bad boy to help you slice through all that timber. With an adjustable depth gauge for accurate cutting up to 62mm and an on-board LED work light, you'll be enjoying that finely crafted table with dad sooner rather than later.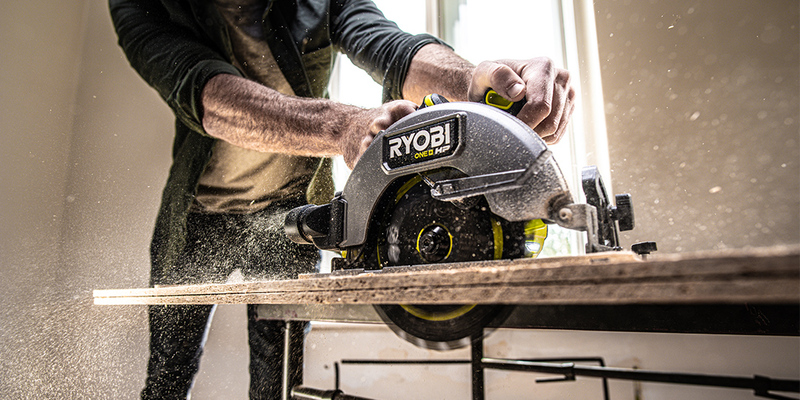 18V ONE+ HP™ BRUSHLESS 4 MODE IMPACT DRIVER.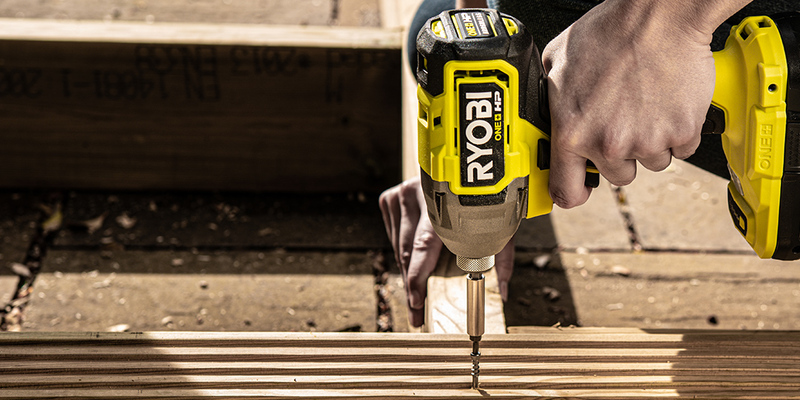 We're pretty keen to be adding this to our collection of HP
™
tools. It's the Brushless 4-Mode Impact Driver, and its high torque impacting mechanism can handle some of your toughest DIY projects. With up to 2,900 RPM and 4,000 impacts per minute, you can trust this guy to help you screw long batten screws into timber sleepers or drive those screwed anchors into concrete or brick.
18V ONE+ HP™ BRUSHLESS COMPACT HAMMER DRILL.
Smaller and lighter than a standard size hammer drill, our new HP™ Brushless Compact Hammer Drill packs a lot of punch. If you want to drill into masonry, just push the button to engage the hammer option that will drill up to 1,700 RPM and 27,200 impacts per minute. But let's bring it back indoors – while dad is hard at work outside with his other RYOBI power-horses, you might like to use this one to hang picture frames on your double-brick walls, or mount some shelves inside your garage. Either way, you'll be glad you bought one of these.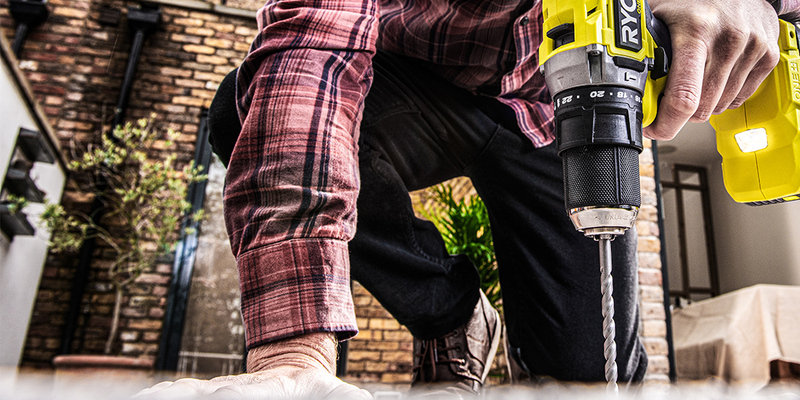 IF YOU OR YOUR DAD ARE NEW TO RYOBI,
HERE ARE SOME GREAT STARTER KITS TO GET YOU ON THE TOOLS QUICKER!
18V ONE+ HP™ BRUSHLESS COMPACT IMPACT DRIVER KIT.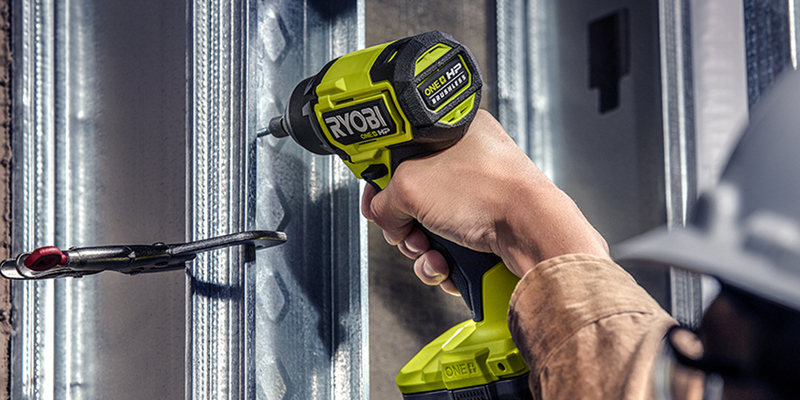 It's hard to beat the performance of an impact driver when you've got long screws to tighten, or you need to fix your ailing clothesline to a post. But that's where our Compact Impact Driver comes in handy with 240 newton metres of torque for even the toughest DIY projects. This kit includes a 4.0Ah lithium battery and 2A charger, so if you buy it for yourself, don't be surprised when dad takes it off you so he can keep tinkering away with his backyard decking...
18V ONE+ HP™ BRUSHLESS HAMMER DRILL KIT.
Our high-torque Brushless Hammer Drill is ideal for attaching frames and fixtures to brick walls or concrete. With 85 newton metres of torque, this one is our most powerful hammer drills yet. The 13mm keyless metal chuck will ensure the bit stays locked in place when you're drilling into masonry. This kit includes a 4.0Ah lithium battery and 2A charger, so it makes a great gift for dad (or yourself).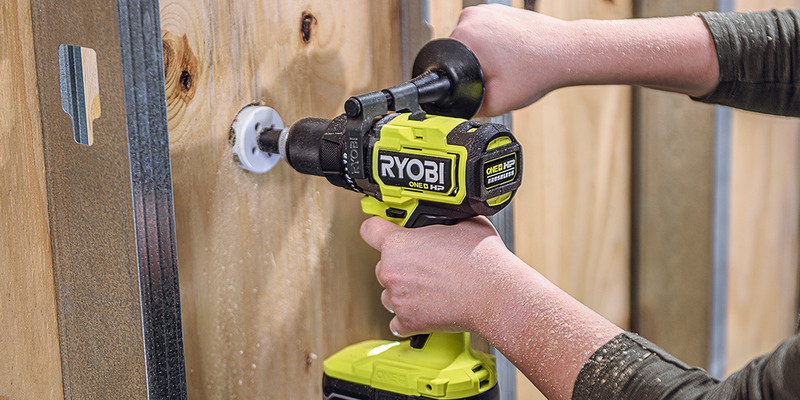 18V ONE+ HP™ BRUSHLESS COMPACT RECIP SAW KIT.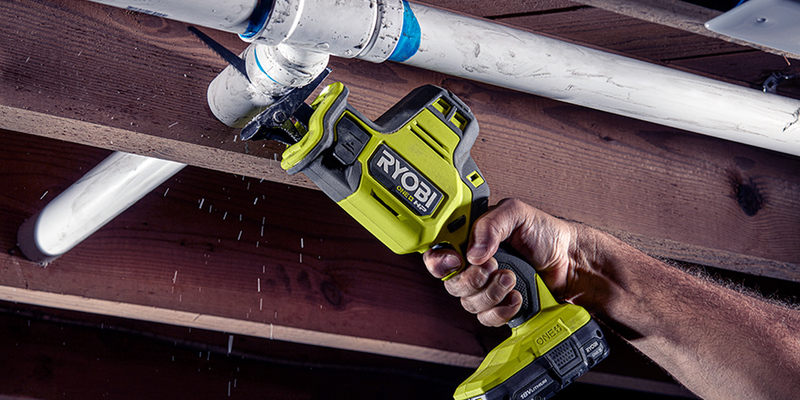 And finally, our Compact Recip Saw is perfect for rough cuts in metal, timber, and plastic – the type you find when you're demolishing a kitchen or bathroom before the reno starts. It's smaller size and lighter weight means it's great to use in hard to reach places and also easier on the arms when working overhead. It's designed for one-handed use, too. It pumps out 3,000 strokes per minute, which means it really is a high performance tool in such a compact size and shape. This kit also includes a 4.0Ah lithium battery and 2A charger, and it would be great for your kitchen or bathroom reno during the demolition phase, especially if you'd need to make a lot of rough cuts...
WITH ONE BATTERY POWERING OVER 1OO TOOLS, YOU CAN MAKE JUST ABOUT ANYTHING WITH THE ONE+ SYSTEM.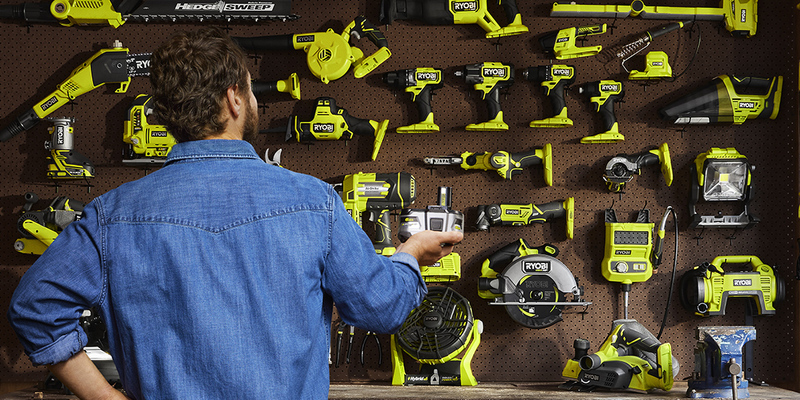 If you're looking for inspiration, tips & tricks or just want to connect with other DIY and gardening fans just like you, come and join the My RYOBI Community Facebook group. It's free. We'd love to see your latest project too!