TIME TO HIT THE DECK
RYOBI TEAM
27 MARCH 2022

DECK BUILDING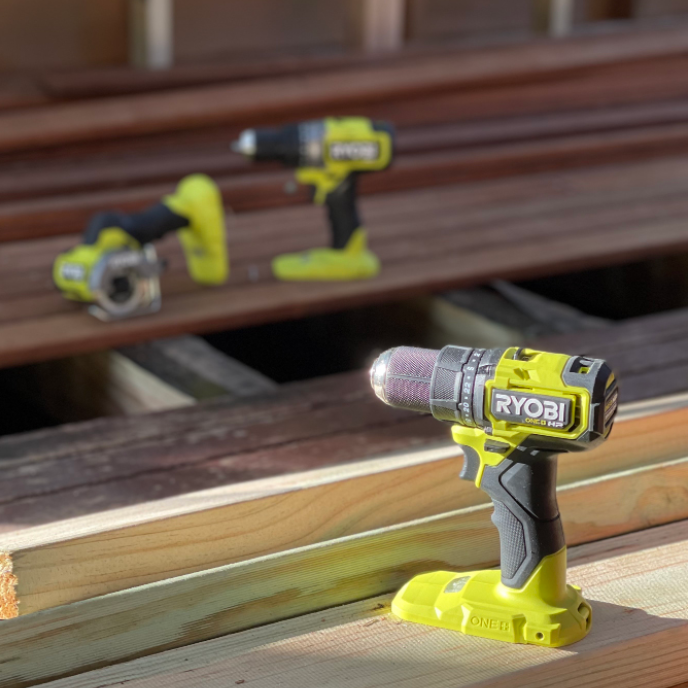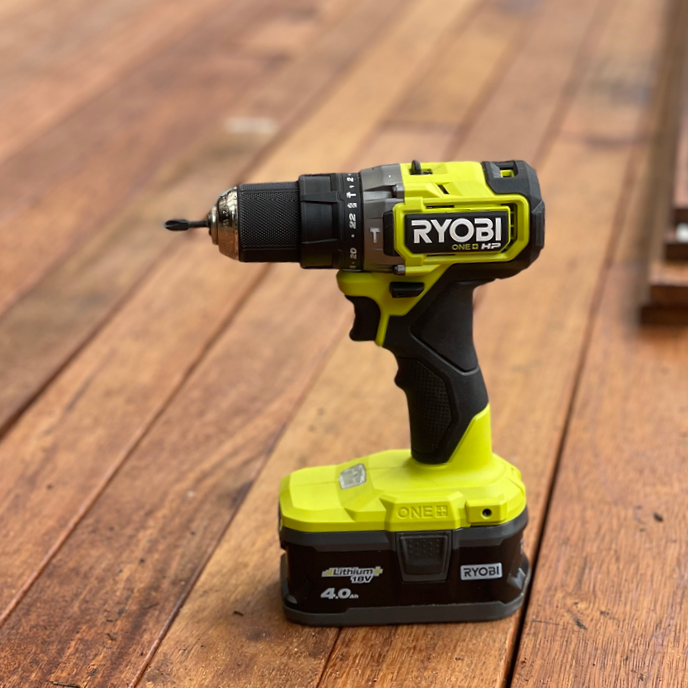 HOW TO CREATE A DECK TO BE PROUD OF
Long weekends don't come around that often, but when they do it's a great time to make your 'dream deck' a reality – or show a bit of love to your existing one.

This article will give you a few tips on building a new deck or restoring an old one.
NEW DECK
Before you get too far into planning, check with your local council to see if the size of deck you're wanting requires a building permit and that your local timber supplier has all the supplies you need. Given you'll also be working with power tools, make sure you have your personal protective equipment handy, that's gloves, glasses and ear protection!

Most decks are elevated and need to have their footings sunk into the ground for stability. Digging these holes is hard work with a shovel, so take a look at the RYOBI 36V Brushless Post Hole Digger to make short work of deep holes

When cutting decking boards, especially hardwood like macrocarpa, use a mitre saw, such as RYOBI's range of 18V ONE+ mitre saws, for perfectly square precision cuts, before securing the boards to the frame.

Or with your RYOBI 18V ONE+ Circular Saw in hand you can trim a clean straight edge after you've installed the boards to the frame. Just remember to keep the boards longer than you need when you install them.

Speaking of chalk lines, snap one along the boards where you are screwing or nailing them to the frame. Nothing spoils the look of a new deck more than a wonky line of screws or nails. An impact driver is a great tool for setting long screws into hardwood boards. Make sure you drill pilot holes first before driving screws or hammering nails into the boards. TIP: For best results use specifically made deck screws, and pre-drill your holes with a countersink drill bit to keep your screw heads flush to surface of your deck boards.

Which way up? If your macrocarpa or treated pine deck boards have ripples on one side, that's to help air circulate beneath the boards where they contact the joists. It is designed to prevent rot. Hence, you shouldn't be walking on the ripples – flat side up!

Occasionally, especially if your deck is large and you're using longer boards, you'll get one with a bit of a bow in it. Fix one end of the errant board to a joist and then use wedges (plastic builders' wedges used to pack windows are pretty good) – or cut your own timber ones – and as you move down the board section by section, use the wedges to force it straight and screw it into place.

For even consistent gaps between boards, a flat carpenter's pencil inserted between them is an easy solution.

Just remember to use the thin width of the pencil, or your spacing will be too wide.

Finally, the satisfying bit – staining or sealing your deck. There are plenty of options to achieve the look you're after.
OLD DECK
Grab your RYOBI Water Blaster and get cracking. Remove all the old debris and dirt with ease with the RYOBI Power Scrubber, or RYOBI sander for stubborn old paint.

Carefully remove any rotten, damaged or warped boards and replace like for like (same timber species, same dimensions, same fasteners (nails or screws).

Fill any deep gouges or knot holes in existing boards with the appropriate timber filler matched to the colour of the timber.

Nailed deck: With a hammer and punch (and knee pads) counter sink each nail, remembering that bare feet eventually will find every one you miss. If your deck has screws, check that each one is tight and countersunk. (see above for the right tools to help).

Once the nails or screws are below the timber surface you can sand all the boards smooth again without damaging your RYOBI sander or sandpaper. If your boards are showing a lot of wear, use a RYOBI belt sander, which is more aggressive to remove material quickly.

Finish with a random RYOBI orbital sander for a nice, smooth finish, using higher grit sandpaper with each pass for the best look.