LAWN CARE FOR BEGINNERS.
RYOBI TEAM
28 OCTOBER 2020
There's nothing quite like the feeling of bare feet on fresh cut grass. Lawns are the perfect backdrop to sunny days spent with family and friends. But if you want to keep your lawn looking fresh and green, care and maintenance are key. Luckily, being a great lawn caregiver doesn't mean you have to be an expert botanist. We've put together some of our best Lawn Care 101 tips, so you can get to it.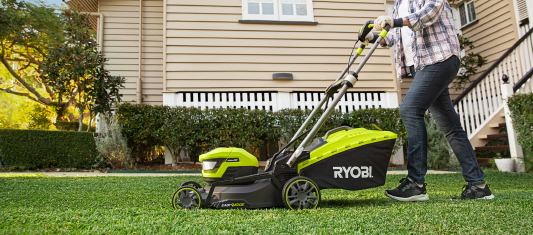 Whether you're just starting out, or need to re-seed your lawn, the first step is to select a type of grass. Once you've chosen the type of grass for your lifestyle, location and climate, you're ready to start seeding. The best time to seed your lawn is during the in-between seasons of the year, when temperatures are mild (we're talking Spring or Autumn). The first secret to great-looking turf is to keep it trim. Exactly how often you should mow your lawn will depend on the type of grass and where you live. As a general rule of thumb, you should be mowing your lawn every 1-2 weeks in Spring and Summer and every 2-5 weeks in Autumn and Winter. If mowing the lawn isn't your favourite chore, it might be tempting to cut the lawn closer to the ground to reduce the
time between trims. But this can actually stress the grass and cause it to grow back quicker. Plus, mowing too low can lead to a patchy, uneven lawn. So how short should you trim your lawn? That depends on the variety. We've broken it all down for you in this handy chart: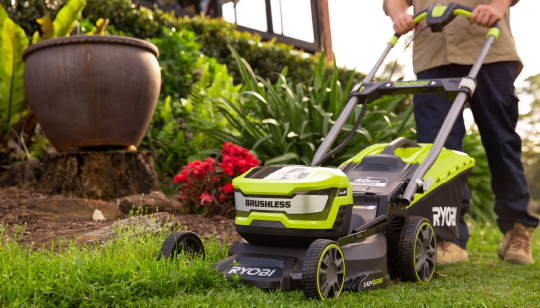 Like anything else in the Garden, you'll find much more success with good mowing equipment. Sharp blades will cut through your grass evenly, assuring it grows back evenly. Buying a good lawn mower is a great way to invest in your lawn. And make sure to sharpen or replace blades annually to keep your lawn healthy and stop grass developing brown, frayed tips. There are two main ways to mow your lawn. The first is to have a mower with a bag that catches lawn clippings as you go.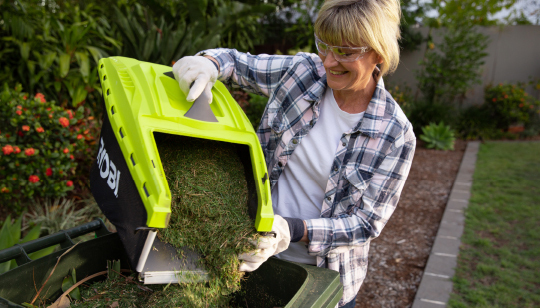 SThe second is called mulch mowing, where lawn clippings are recut into superfine pieces and dispersed back onto your lawn, Mulch mowing can enhance the look and feel of your lawn by helping it hold onto moisture and keep a stable temperature. The mulched clippings can also help fertilise your lawn. Mulched mowing also means you don't need to worry about emptying the bag mid-mow, or how to get rid of your bags of clippings.
FEEDING AND WATERING YOUR LAWN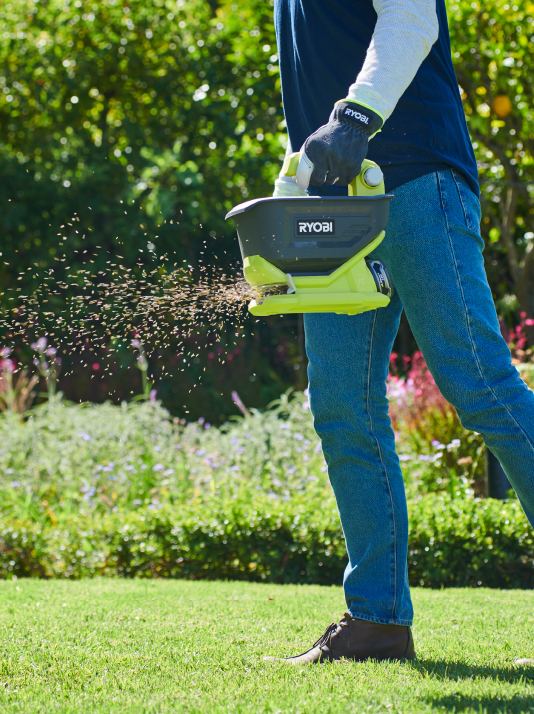 Like every living thing, your lawn needs food and water. During wetter months, rainwater will do a lot of the heavy lifting for you. But as temperatures rise, you'll have to make up for dryer weather with regular waterings. If you don't have a sprinkler system built into your lawn, investing in a hose with sprinkler and soaker settings should do the trick. It's best to water early in the mornings, or early afternoon. Watering for longer periods (up to an hour) less frequently will help your lawn become more tolerant to droughts. But most importantly, make sure you check with your local council about the rules around watering, and always follow their guidelines. If you live in a dryer climate, you might find yourself watering your lawn often, but luckily feeding your lawn requires a less frequent schedule. The first time of year to fertilise your lawn is Spring. As temperatures grow warmer, feeding your lawn with a slow-release fertiliser will help your lawn keep healthy through Summer. You'll also want to fertilise during mid to late Autumn to prep your lawn for winter. If fertilising your lawn isn't currently part of your routine, you're not alone – many people forget this step. Here's how to make feeding time for your lawn a breeze:
• Before you begin, clear any debris with a rake or a blower.
• Mow your lawn 2-3 days before fertilising, and don't mow it again for at least one week.
• Choose the right fertiliser for your lawn, climate, and time of year. • Getting an even spread is key, so use a handheld or wheeled spreader.
FEEDING AND WATERING YOUR LAWN
Stick vacs are awesome at cleaning curtains while allowing you to keep both feet firmly on the ground. The dust brush attachment can be really handy across the top of the curtains or pelmets. While you're looking up, grab the crevice tool to get rid of any spider webs or mozzies lurking on the cornices.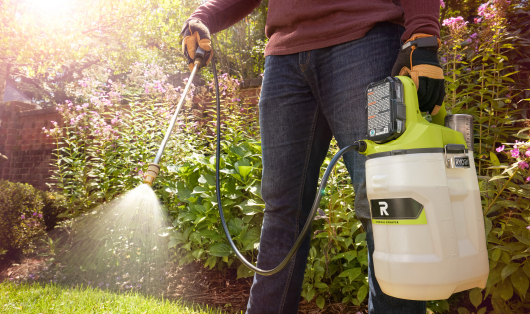 WE LOVE SHARING OUR TIPS & TRICKS IN THE GARDEN WITH YOU, BUT NOW IT'S YOUR TURN!
Keep the conversation going or share your own lawn care tips in the MyRyobi Community Facebook Group.