CLEANING TOOLS TO HELP MAKE YOUR INDOORS SPARKLE
How to spend more time enjoying your home and less time cleaning it
SPEND MORE TIME ENJOYING YOUR HOME AND LESS TIME CLEANING IT
ONE+ tools all share the same battery and we're always adding new tools to the ONE+ range, like these indoor cleaning tools, designed to help clean all areas of your home, like floors, windows, bathrooms, kitchens and laundries. So, you can clean everything from carpets to the kitchen sink using the same battery!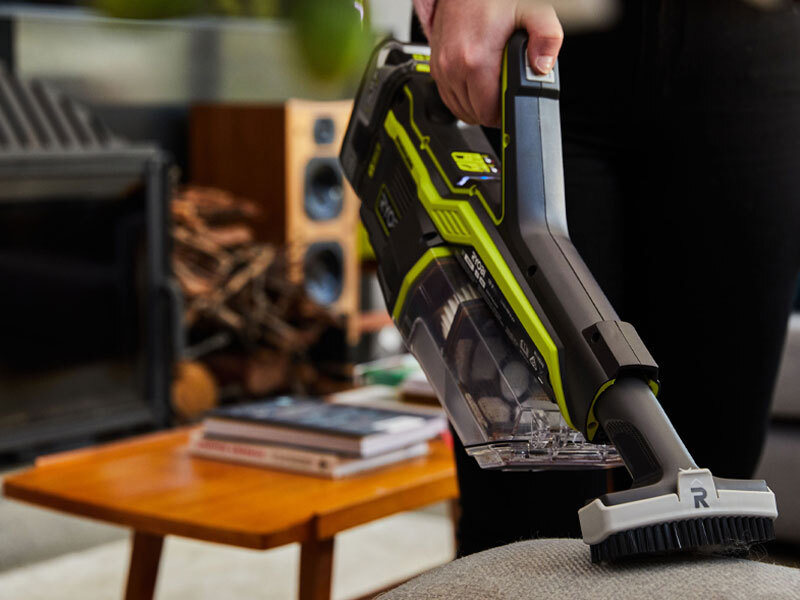 18V ONE+ HP BRUSHLESS STICK VACUUM 4.0AH KIT
R18XSV914
The ONE+ Brushless Stick Vac has a powerful brushless motor that picks up everything in its path. It has a motorised, easy-to-clean brush bar that makes pet hair and carpet fibres simple to remove. And to help find dust under furniture and inside dark spaces the power head also has a convenient LED light. Plus, plenty of other features.

ONE+ WINDOW VAC
R18WV-0
Get your windows, mirrors, splashbacks and tiles sparkling with this tool that cuts traditional cleaning time by up to two-thirds. Works on a variety of surfaces and even cleans up spills on hard floors and benchtops.

18V ONE+ 4L WET & DRY COMPACT VACUUM
RWDV184
Kitchen, laundry, bathroom … wherever you need to vacuum up liquids or spills, this wet and dry vac will come to your rescue. And it has no cords to tangle or trip over.

ONE+ DRAIN AUGER
R18DA-0
Clear blocked or slow-draining pipes in the kitchen, laundry or bathroom with this motorised drain auger. Not only efficient, but may save you a call-out to a plumber.

CLEAN UP IN THE RUMPUS ROOM
Find a storage solution for toys, sporting equipment, camping gear and everything else that ends up in the rumpus room or spare bedroom with RYOBI LINK™. You'll maximise your space and minimise the chaos.
GOT MORE SPACES THAT NEED CLEANING? CHECK OUT OUR TOOLS FOR:

OUTDOOR

AUTOMOTIVE

WORKSHOP

18V ONE+ 4.0AH BATTERY AND CHARGER COMBO KIT
R18SK14