FLOWER POWER
In this People of RYOBI interview, Barry Du Bois talks with full-time artist Misha Harrison who turns humble plywood into 3D works of art.
Tell us a little bit about you (What inspired you to take up still life, portraiture, and abstractions and when did you start?)
I am an artist from Wollongong NSW, I studied fine arts at TAFE completing a diploma of fine arts after high school. I continued my studies at Wollongong University majoring in sculpture and installation, completing a bachelor of creative arts and honours degree in the first class in 2016. I have always been a creative person and always had a knack for making. I started my current artistic style /practice after my studies at university. I spent a few years working numerous jobs to support my art, in this time I experimented with many different mediums and styles. While I was at Hazelhurst Regional Gallery on a residency I began experimenting with plywood. Initially my plywood art was two dimensional- I experimented with painting an abstract design on the wood then cutting the artwork into squares and rectangles and reassembling it, mixing up the cut pieces in different positions to create an abstract artwork. This is where my current style began to evolve. Over the years I began experimenting with cutting the wood in different shapes adding dimension and form (making the pieces three dimensional) and adding in pieces of wood wrapped in wool and embroidery. I submitted these abstract three dimensional artworks to Sydney Road Gallery on an artist call out leading to my representation of Sydney road Gallery where I have now had two solo exhibitions one a sell out show and the other only two small works off another sell out. The gallery does themed exhibitions inviting represented artists to create works based on the theme of the upcoming show- this is where my journey with still life began. I created a piece for the 'Still Life' exhibition which ignited my passion for the genre. I found endless inspiration mimicking flowers, leaves, objects and drapery out of plywood. The genre of still life challenged my craftsmanship, pushing me to work more detailed. I have never looked back, I am always perfecting my craft, looking for ways to execute new artworks while pushing the plywood beyond the confines of its materiality.
What were some of your first projects/steps/iterations?
My first projects were creating abstract artworks that focused on line, dimension, texture and form. I dabbled in a bit of abstracted portraiture then progressing into the genre of still life. I also worked on other projects incorporating my artwork into functional items like tables, coffee tables and other furniture pieces. I have created most of the furniture in my house. My dining table has a three dimensional abstract artwork under glass in a custom built metal frame. I also built my tv unit that has a MDF structure with a zebra (yes I'm so extra haha) carved artwork design inlayed into the oak trim. I really liked these early projects and would like to revisit the idea of functional art one day.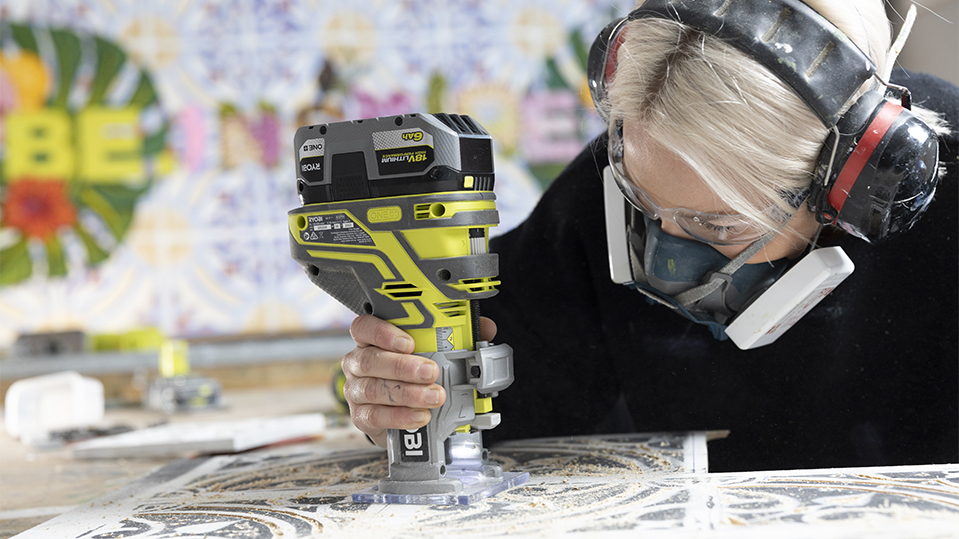 From where do you get your inspiration?
A lot of my inspiration comes from nature. Recreating the elaborate designs found in plants (bouquets of flowers and greenery) is forever providing me with endless ideas and inspiration. The material of plywood itself is also inspiring to me. It constantly challenges my mind. Plywood is really tough in its initial form but the more you cut into it and the more detailed you make the cuts it becomes brittle and fragile. It always keeps me on my toes and stimulates my mind to overcome it's boundaries. The concept of the handmade is also a great inspiration to my work- William Morris a famous designer and artist from the mid 19th Century believed that mass produced items lack soul- my art aligns with these ideas. My artworks are imperfect- the human error seen in the cuts and the little pieces that aren't perfect is what gives my art its soul. It's all about human connection, showing human touch in the handmade- something that is becoming rare in this day and age where everything is mass produced and ready made.
What achievement are you most proud of?
I have a few proud moments from my time as an artist, it has been a rollercoaster! My honours major work was accepted into the North Sydney Art Prize in 2017, I also won the Hazel Hurst artist in residence in 2017. Even finding my artistic niche at a youngish age is something I'm really proud of (some artists never find it). I recently won the Jumbled Art superstar award and mentorship and something I'm really proud of is quitting my job and being a full time artist! Each of these achievements over the years were milestones at the time of achieving them and they really pushed me to never give up on my passion.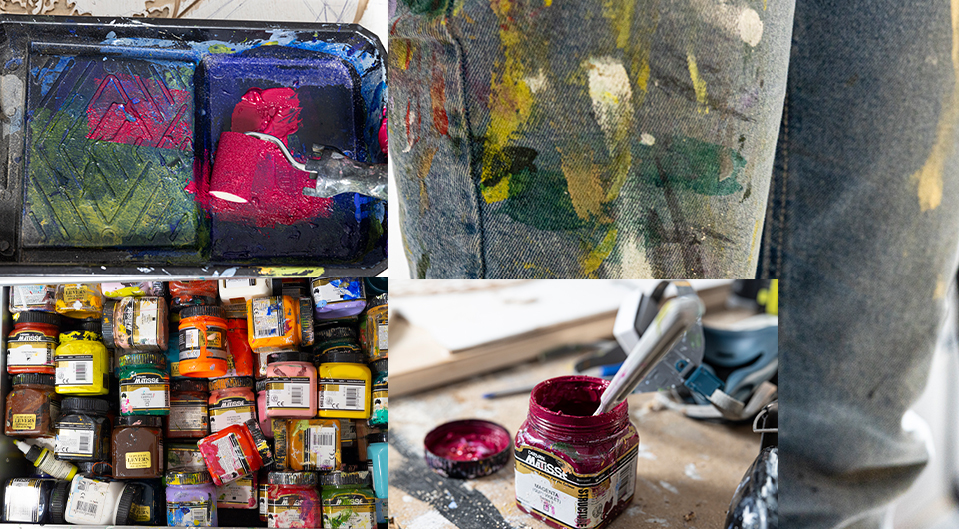 Over your journey, what have you learnt about yourself and your passion?
I have learnt so much over the years. I have learnt that I am a hard worker and that I'm determined to do whatever it takes to make my dreams come true. I have learnt that it's ok to take a different path in life. It was difficult to tell people I wanted to be an artist and not being taken seriously along the way. I really learnt to stay focused and to give my dreams my everything- it was more like an obsession lol I think that's when you know you're on the right path. I have also learnt to just trust the process- the future is never clear when embarking on your passion but if you believe it you can make it happen- anything is possible! Referring to the commission piece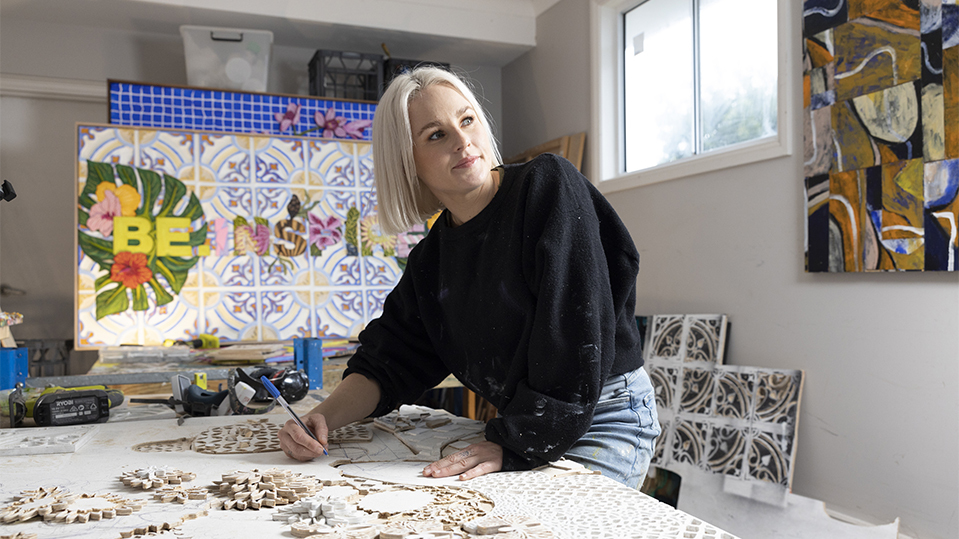 What is your inspiration for this piece?
My inspiration for this piece is really to embody everything Ryobi and what I am all about - keeping inspired! The words 'Be Inspired' really talk about my journey as an artist as well as the endless things you can do with power tools! Haha Ryobi tools have always been in my tool collection, they were the first tools I ever bought so creating this piece for the team at Ryobi is a dream come true. I wanted to stick with my style, creating a three dimensional art piece that incorporates flowers, greenery and embroidery into the piece. The tiled motif background is also something that I have incorporated from my current practice which adds a textured and colourful background to accentuate the main subject matter of the text 'Be Inspired'
What tools do you use?
My weapons of choice are a Ryobi 18V jigsaw, a pug in router (plug in is more lightweight for detailed work), the 18V cordless router for less intricate work, A detail sander for smoothing the cuts before painting as well as an 18v cordless drill for drilling the hundreds of holes into the wood where all my cuts have to go as well as where I hand stitch through the wood - sounds exhausting right? Haha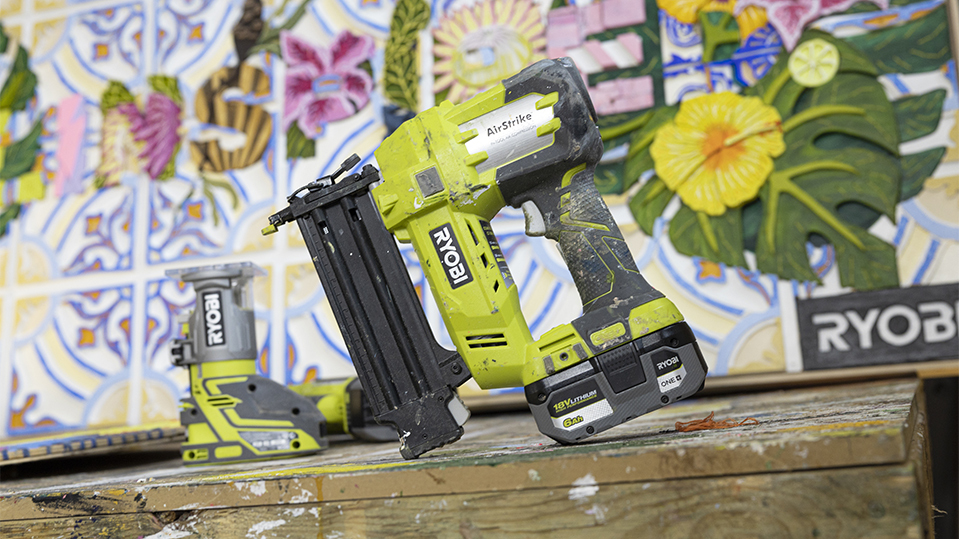 What is the toughest part of a project like this?
This particular project is challenging me because I have never worked with text as the main subject matter of an artwork- I love a good challenge! I have to experiment with how to make the text stand out from the background as well as making the piece come together in harmony.
What advice could you give others who want to pursue a similar passion?
My best advice is to believe in yourself and never give up. It took me years to find my style and when you know you've found it you'll be obsessed. I remember when I first started working with plywood none of my paintings sold- no one believed in what I was creating because it was really different. Over the years my style evolved and suddenly I can't keep up with the amount of work I have on. My second piece of advice is never think anything is too hard, the challenges of creating what you want is all a part of it. I taught myself how to use all the tools I use and with practice I am perfecting my craft. If you love what you are doing you'll find a way to make it happen. Thirdly -EXPERIMENT, EXPERIMENT, EXPERIMENT find what you like doing and even what you don't, if you would have told me 15 years ago that I would be working with plywood full time I would have believed you!
What is your next goal or achievement you want to work towards?
My next few goals are to get through all the work I have to do for upcoming shows at Sydney Road Gallery and Corner Store Gallery. After that my new years resolution for this year was to take part in 'The Other Art Fair' which is a huge three day art fair at Barangaroo in December. Artists showcase their work to thousands of attendees. This will need months of preparation so I'll be finishing off 2022 with a bang and am thinking I'll need a week of sleep when its all done haha. I'd also really like to figure out a way to create a unique furniture brand but I need to wait for the right timing (and resources) to make this happen.
Lots to look forward to but lots of hard work to be done!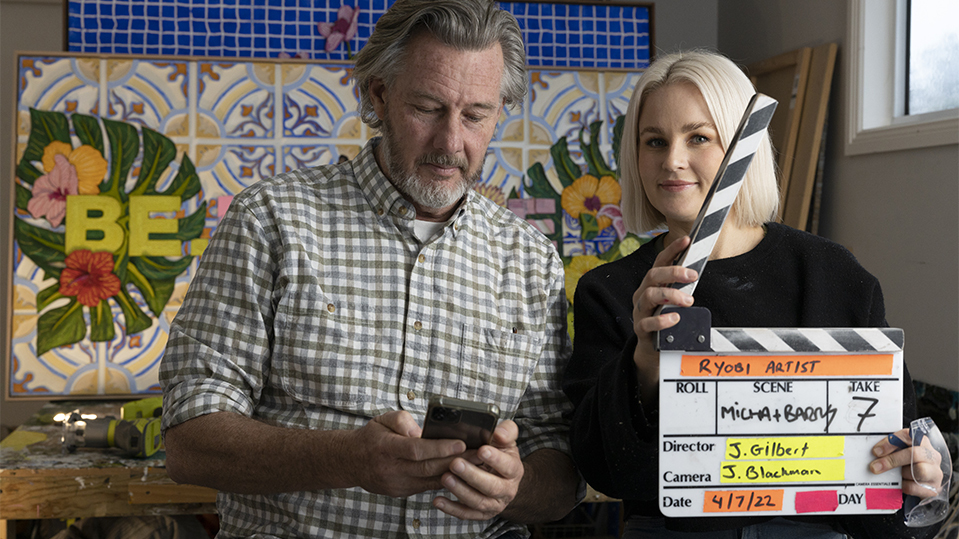 See what other DIY fans are achieving with this tool on #RYOBIMADE