GETTING YOUR GARDEN READY FOR THE YEAR AHEAD
I treat spring gardening like an athlete treats pre-season training. All the planning and effort I put in now will pay off in the following months.

Think about any football player who has a standout year and the conversation usually points to what a great pre-season they had. The opposite is also true.

Don't do the preparation and pay the price later. So, what should you do this 'pre-season'?
WHERE TO START: EQUIPMENT (all 36V and 18V tools and accessories)
Make sure your equipment is up to scratch before you begin. It's a great time to top up your outdoor power equipment with tools your garden has been crying out for.

It's probably time to replace your lawn mower blades with sharp ones (or get a new mower). Blunt blades can damage grass, leaving it brown-tipped and ragged looking. Clean and disinfect your cutting tools so that they are disease-free. Check for sharpness, too.

And make sure you have enough batteries/runtime for your cordless tools. I use RYOBI in my garden.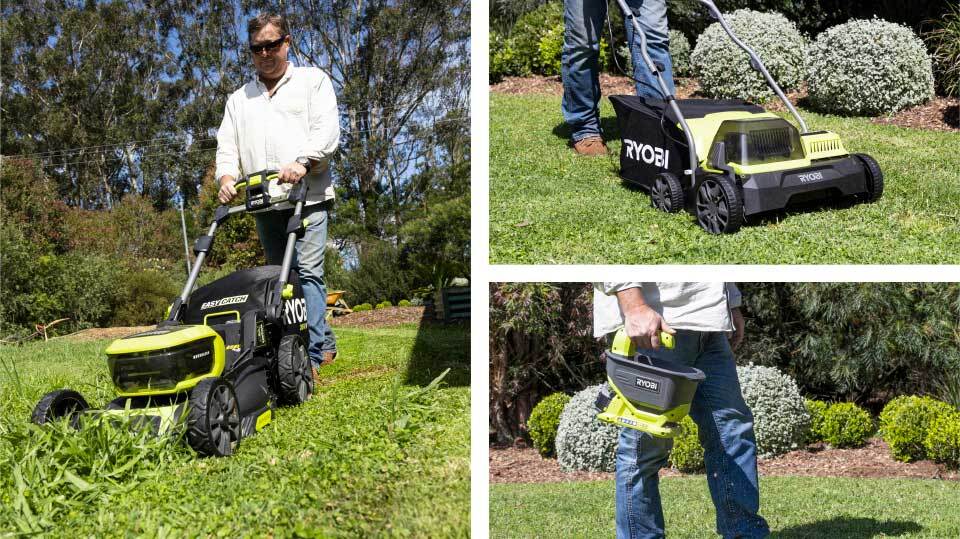 HOW TO GET GREAT-LOOKING LAWNS
For many of us, the sign of a great garden is a lush, green and healthy lawn. But getting one can be a bit of battle. Now is a great time to set up your lawn so it looks great for the warmer months.

But be warned … it may take a bit of tough love to get it there.

Start by giving your lawn a buzz cut - drop your mower down one extra level to take off the buds from the weeds that have probably already started to appear in the lawn. And don't forget to use the line trimmer around the edges and obstacles, like trees, garden beds and play equipment.

Now is the time to scarify the lawn if it's full of dead, yellow grass or the weeds are taking over.

Scarifying is best done around the start of October. By then, the soil should have warmed up so the lawn repairs itself in about 2 weeks, rather than 6 weeks when it's cold.

When done properly, scarifying looks a bit like you're destroying your lawn. But trust me … your lawn will love you for it. Make sure you scarify the grass in a cross-hatch pattern to get the best results.

TIP: Scarify an out-of-the-way patch first to get the depth right.

Scarifying allows rainwater to penetrate the soil, and sunlight and other nutrients to reach the grass shoots without excess dead runners blocking them out.

After scarifying and removing all that dead grass (there should be heaps of it) feed your lawn with a recommended lawn fertiliser.

You can oversow small bare patches with lawn seed but I reckon for larger patches, nick down to Bunnings to grab a metre or two of pre-grown 'instant' turf and lay that down for instant results.

If you feel the need to top dress a lawn, course river sand is best, not potting mix or loam.

TIP: Don't try to fill deep holes in one go. You can smother the grass the below. Instead, gently add a few millimetres every week until you reach the level of the surrounding soil.

Jason's RYOBI tool recommendations: lawn mower, scarifier, seed & fertiliser spreader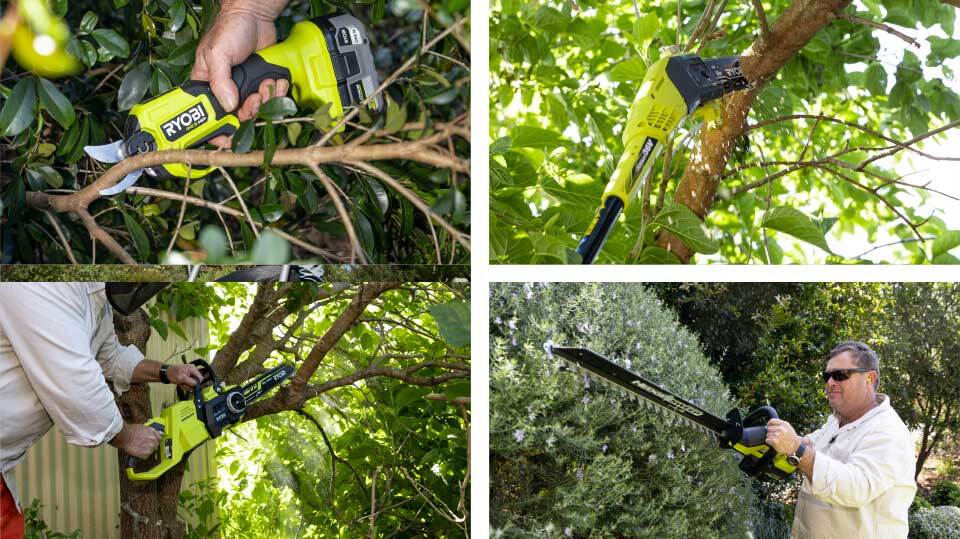 HOW TO PRUNE YOUR PLANTS
Most gardeners know that pruning helps induce new growth in their plants.

But one burning question remains – how much is too much?

Usually, I'll take around one-third of existing growth off for shrubs to shape them accordingly.

For hedges, I'll tip prune them and for fruit trees, I'll give them a hard prune.

TIP: Pruning is great for maintenance as it's basically just removing the tips of branches. As a rule of thumb, every branch you tip prune should sprout a new branch, hence doubling the growth.

So, in growing season (spring) if you don't want your plants to potentially 'go mad', avoid tip pruning and maybe go a bit harder.

If you're into topiary, now is a good time to start getting creative with your shrubs.

Hard pruning is the opportunity to reshape plants and also remove dead or damaged branches. Check for potential damage caused by branches rubbing together that removes bark. This is like leaving the door open to disease and bugs. In fruit trees, remove middle branches to increase air flow and the risk of damage caused by humidity.

Look up! Any branches overhanging roof lines should be removed, especially in bushfire-prone areas. And check your roof gutters for debris. What you collect can be added to your compost heap.

TIP: Don't prune your shrubs and trees on a very hot day as this can unnecessarily stress the plants.

Jason's RYOBI tool recommendations: Secateurs, pruning saw, pole saw, chainsaw, hedge trimmer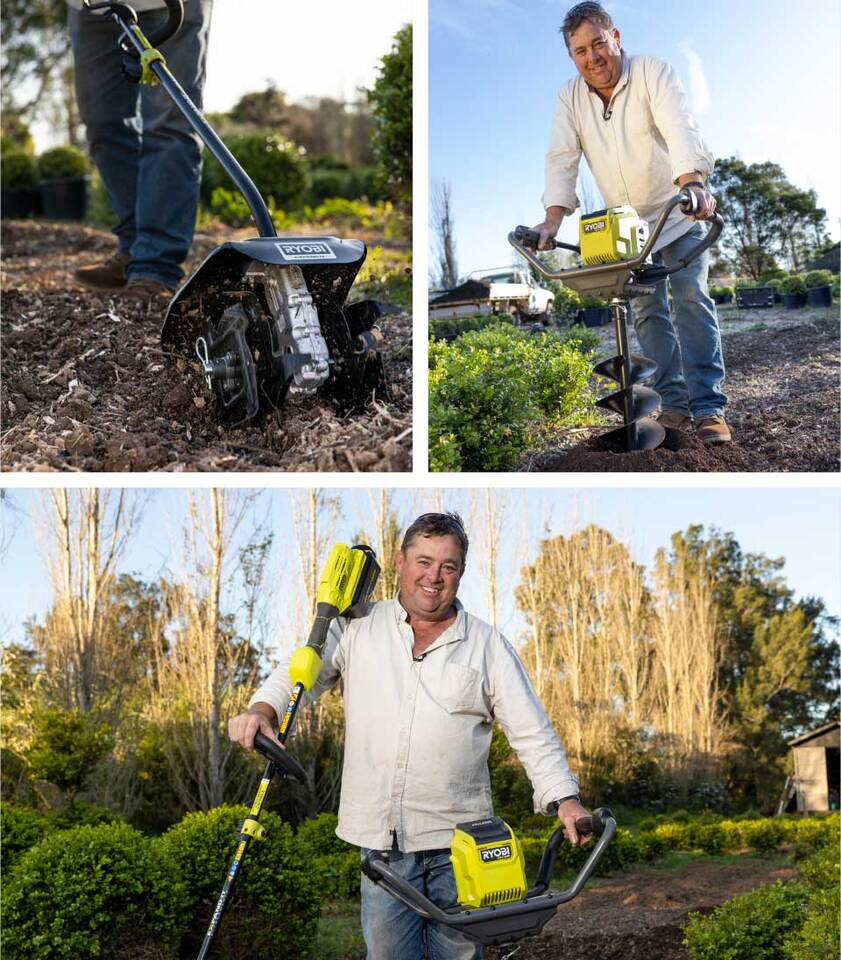 HOW AND WHY TO MULCH
If you've mulched your garden in the past, spring is a great time to top it up. If you haven't mulched before – get cracking!

Old mulch should be turned over with a garden fork and new mulch added around all the plants you love (that should be every one of them, right?). I use mushroom compost and cow manure, but quality compost will do. Just be sure to work it into the soil with a cultivator. Turning over the soil to aerate it before planting gives your new plants and veggies a really great start.

While you're mulching, some fertiliser to the soil underneath and give the plants a big drink of water – if, by some chance you live in an area that wasn't subject to floods earlier this year!

If you have raised garden beds, they may have drained quickly so check beneath the surface to see if the soil is dry.

Jason's RYOBI tool recommendations: seed & fertiliser spreader, cultivator, hand cultivator, planting and digging tool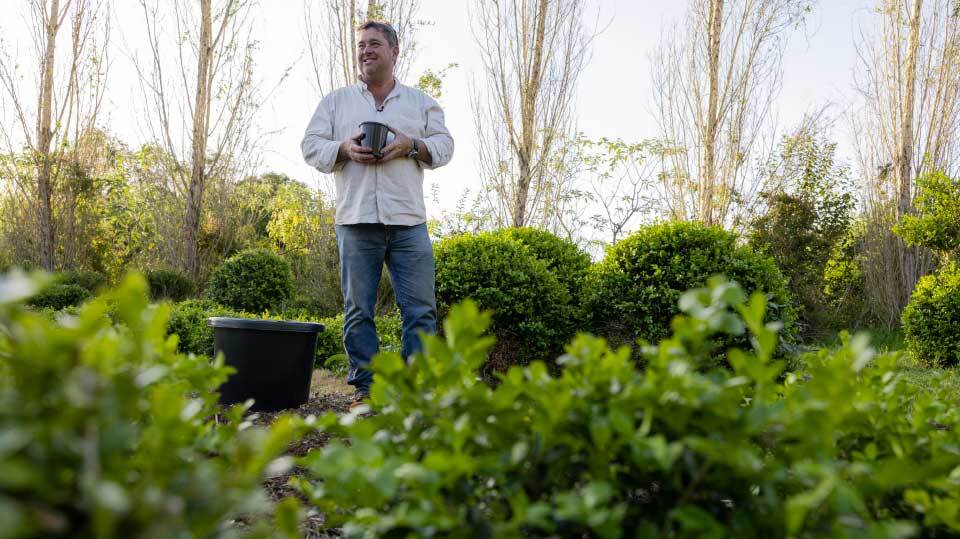 PLANTING A GARDEN
Now is the time to plant leafy green vegetables and herbs for spring and summer. Get advice from your local nursery about what will grow best in your part of the country. Don't forget to mention what soil type you have – such as either clay or sandy.

Jason's RYOBI tool recommendations: planting and digging tool
MAXIMISING ENJOYMENT FROM YOUR GARDEN
Spring is such a good time to start getting out in the garden because usually the soil is soft and the weather is mild – good for you and your plants.

Here's a tip I love sharing with new gardeners. If you want to enjoy working your garden, don't try to do everything in one go. Start by doing just a few minutes each morning or night – weed a small patch in a garden bed, trim one tree, fertilise a veggie patch, add some mulch.

Then, on the weekend, tackle a larger project, like scarifying the lawn or starting a new veggie garden. That way, rather than spending an entire weekend exhausting yourself, and getting sore and grumpy, you'll still see great progress and you'll have time to enjoy the fruits of your labour (pun intended).
WHAT ELSE?
TIP: If you have some spare time, spring is a great time to lift and divide any bulbs or mature plants you have, like liriopes, clivias and mondo grass. Or have a go at striking new plants from existing ones. Try your hand at propagating cuttings.

Most of all, enjoy getting outdoors and experiencing all spring has to offer.
See what other DIY fans are achieving with this tool on #RYOBIMADE