18V VS 36V IN THE GARDEN
I'm often asked, which system should I use in the garden - 18V ONE+ or 36V. And my answer is always the same – "That depends…".

You see, both systems have their advantages – 18V is lighter and has more tools on the platform, while the 36V system delivers more power and battery run time, so it's suited to bigger, more mature gardens.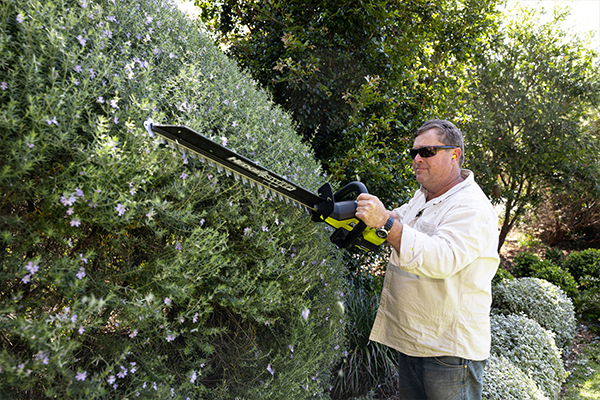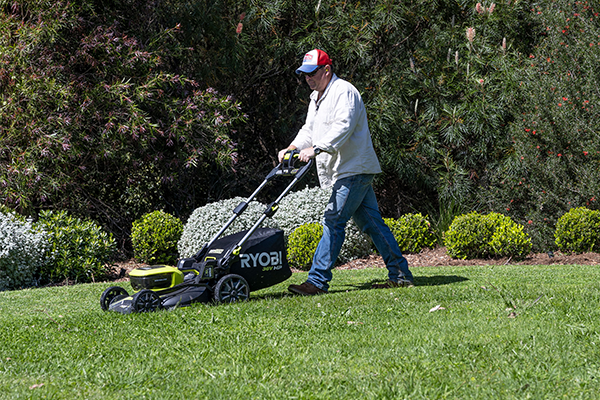 18V SYSTEM
The 18V ONE+ garden tool range is all about convenience and diversity. The 'E mower' has come a long way from the early models that ran off an extension lead. And we know the first battery mowers were underpowered and had a tiny run time.
I reckon the 'E' in mower nowadays should stand for Ease. RYOBI's 18V mowers not only look the business and perform extremely well but they're so easy to use. No pull cords, or chokes, or messy fuel and exhausts, just slip in a battery and off you go!
This is so handy, especially for small to medium sized lawns and nature strips where you just want to get the job done quickly. The same goes for the line trimmers, hedgers and blowers and the many other ONE+ tools and attachments.
I reckon the best thing about the 18V ONE+ system is that once you've got a couple of batteries, say for your power tools or cleaning tools, the garden tools fit the same battery platform, and vice versa. It's really affordable to add to your 'kit'.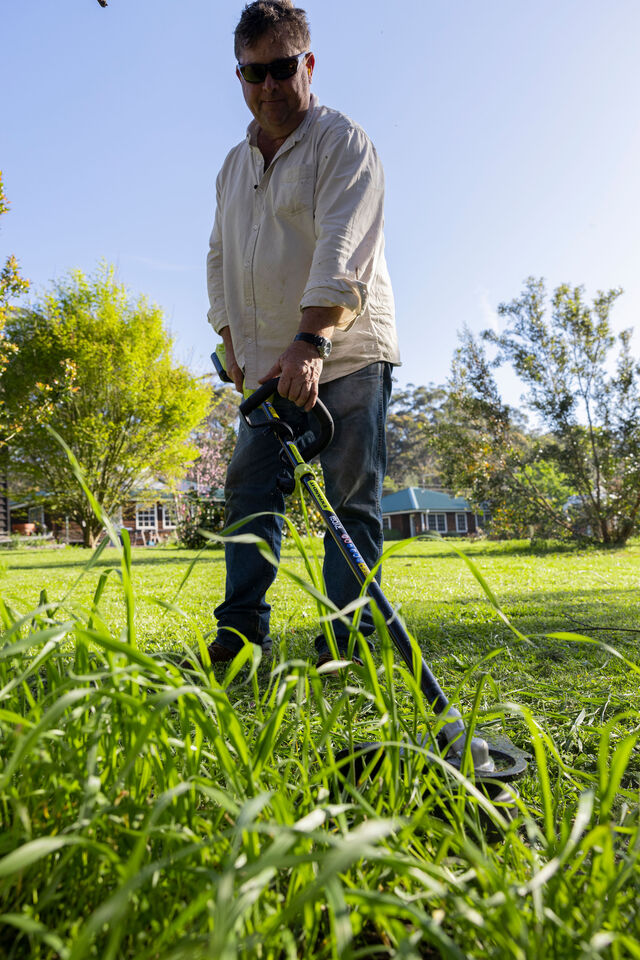 36V SYSTEM
As I said earlier, if you've got a larger garden or gardening is your thing, then you'll probably need a bit more power and runtime to get the job done. My 36V self-propelled mower has room for two batteries (an extra space for longer run time).It can mow 700m2 easily between battery charges.
The 36V range of garden power tools harness their power through clever engineering and modern, lightweight design. They're built for the bigger, tougher jobs found in many established gardens.
There's a whole raft of 36V tools perfect for tackling larger and more complex tasks. Buy them as you need them knowing that they'll always use the same 36V batteries.
Or, if you want to hit the ground running, how about buying a tool from the 36V Expand-It range with a 36V powerhead that can run a few attachments. It's a bit like a Swiss Army knife … use the line trimmer attachment then swap it out for a cultivator, a hedge trimmer or a lopper – practically all the jobs you need to do to maintain a healthy and great-looking garden – without spending extra on batteries, chargers or stand-alone tools.
18V v 36V IN OTHER GARDEN TOOLS
Let's say you don't have any battery-powered garden equipment and you're deciding which line trimmer to purchase. Ask yourself these few questions:
How large a lawn area will I need to trim (including a naturestrip)?
How many trees and other obstacles will I need to trim around?
Do I have grass (or weeds) growing against my fences or house?
How fast does my lawn grow in spring and autumn?
If you consider the trimming task to be low or moderate, and that it shouldn't take too long, the 18V ONE+ 25CM/30CM LINE TRIMMER 4.0AH KIT (R18LTR24) should do the trick. It's got 25cm/30cm cutting path, 3-position adjustable head and a telescopic shaft to suit your height and angle of application.
But if you have a large area with fast-growing grass, trees to trim around, or a corner block with a big naturestrip, for instance, you could consider a 36V model with a wider cutting path, like the 36V HP™ WHISPER™ BRUSHLESS 38/43CM LINE TRIMMER 6.0AH KIT (R36XLTR26). It uses Whisper Technology™ to produce less noise, a bottom mount HP™ brushless motor that delivers more power where you need it, REEL-EASY SPEEDWINDER Cutting Head for easy reloading, variable throttle control with low to high speed selection and a perforated cutting guard for noise suppression and enhanced line visibility.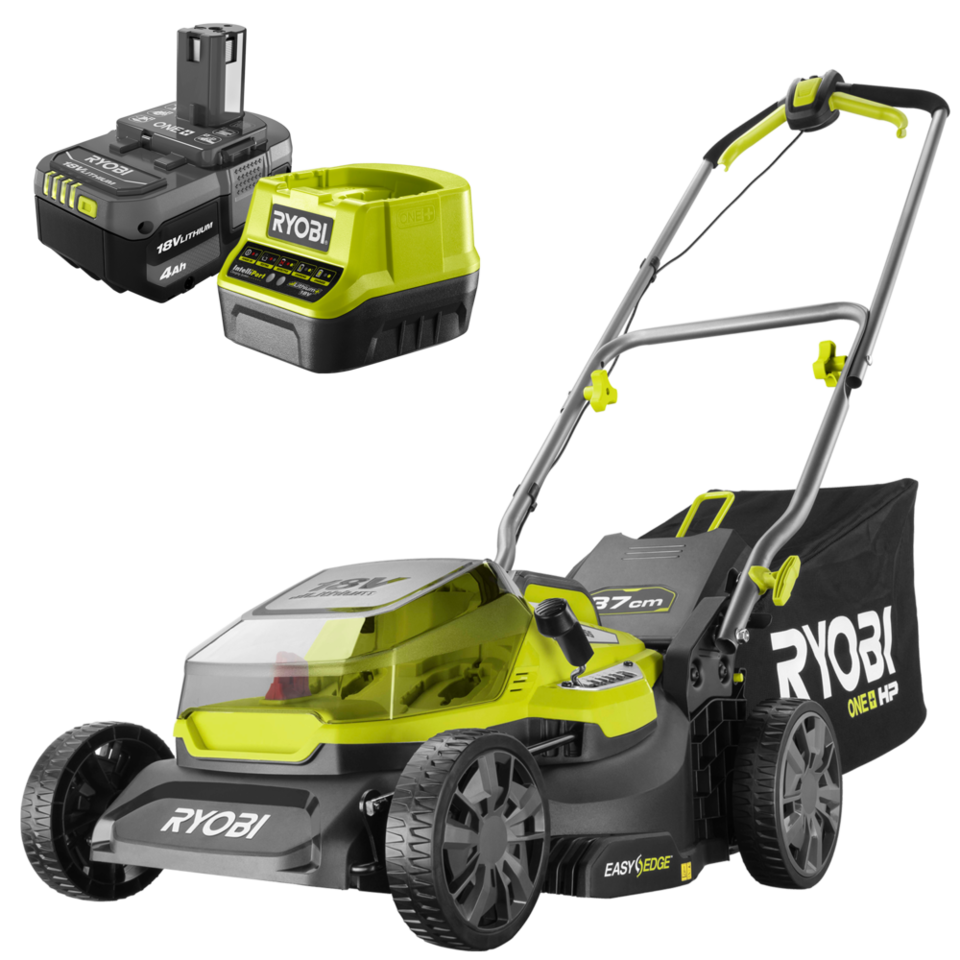 18V ONE+ HP™ BRUSHLESS 37CM LAWN MOWER 4.0AH KIT (R18XLMW24)
Powerful HP™ Brushless Motor

EASYEDGE™ Polymer Deck

37CM-Wide Cutting Path Compact Storage

Spare Storage Battery

6 Mowing Heights

40L Catcher

ONE+ Compatibility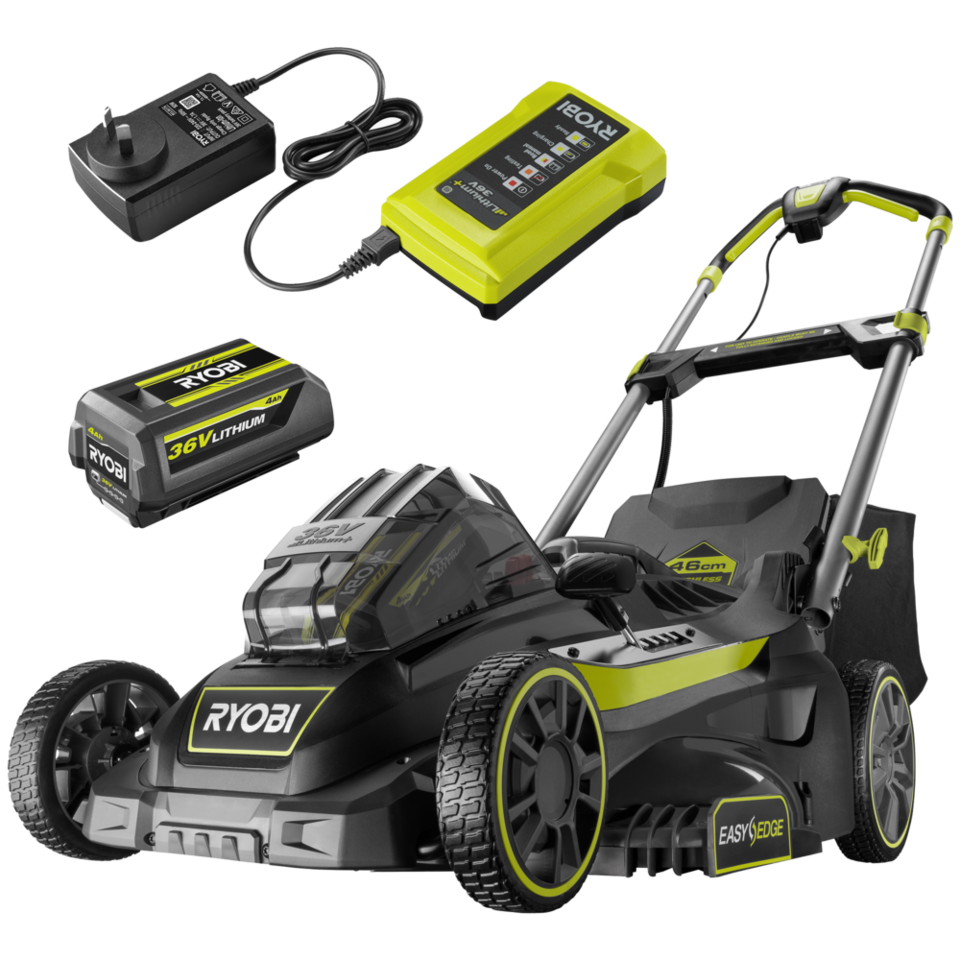 36V BRUSHLESS 46CM LAWN MOWER 4.0AH KIT (RLM36X46BL)
18" (46cm) polymer deck is durable yet lightweight

Advanced brushless motor delivers powerful performance and improves cutting efficiency

Cutting height can be adjusted in seconds (5 steps)

Collapsible folding handles for compact storage

45L grass catcher

Part of the RYOBI 36V range including 15 tools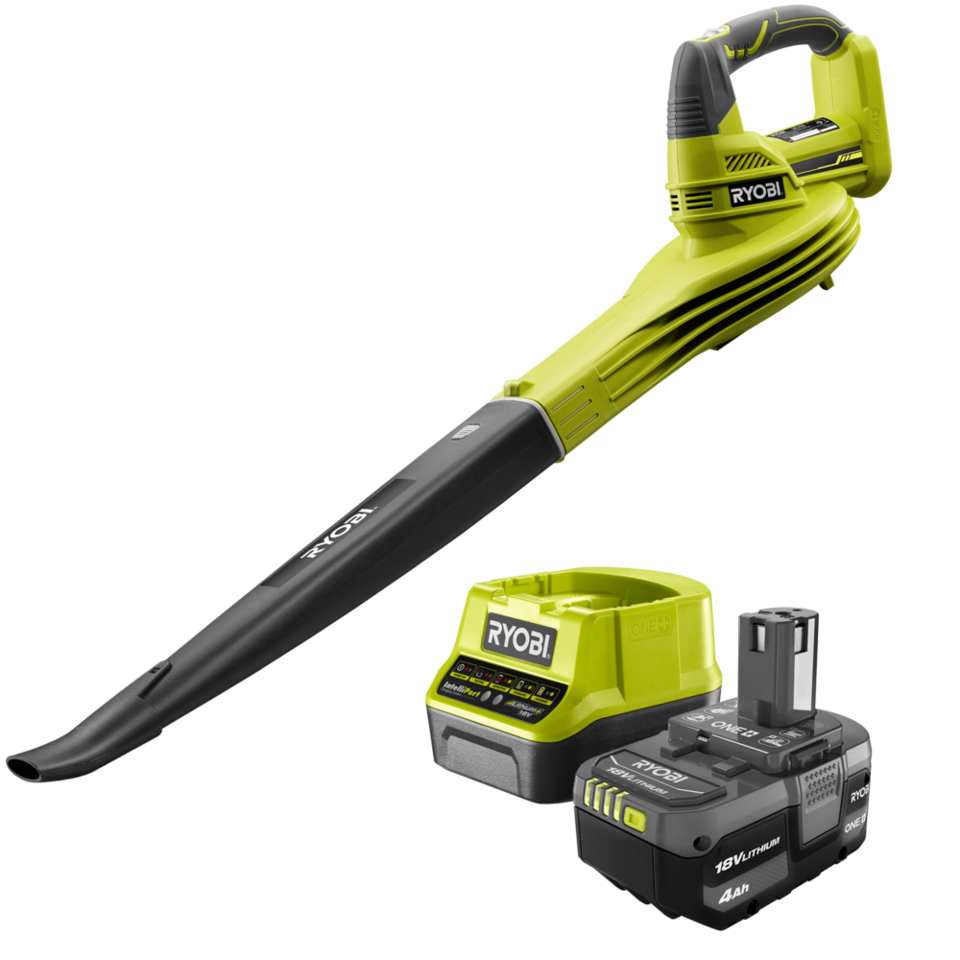 18V ONE+ LEAF BLOWER 4.0AH KIT (R18BLW24)
18V brushed motor

245km/h air velocity

Centrifugal fan design

Integrated speed nozzle

Ergonomic and lightweight design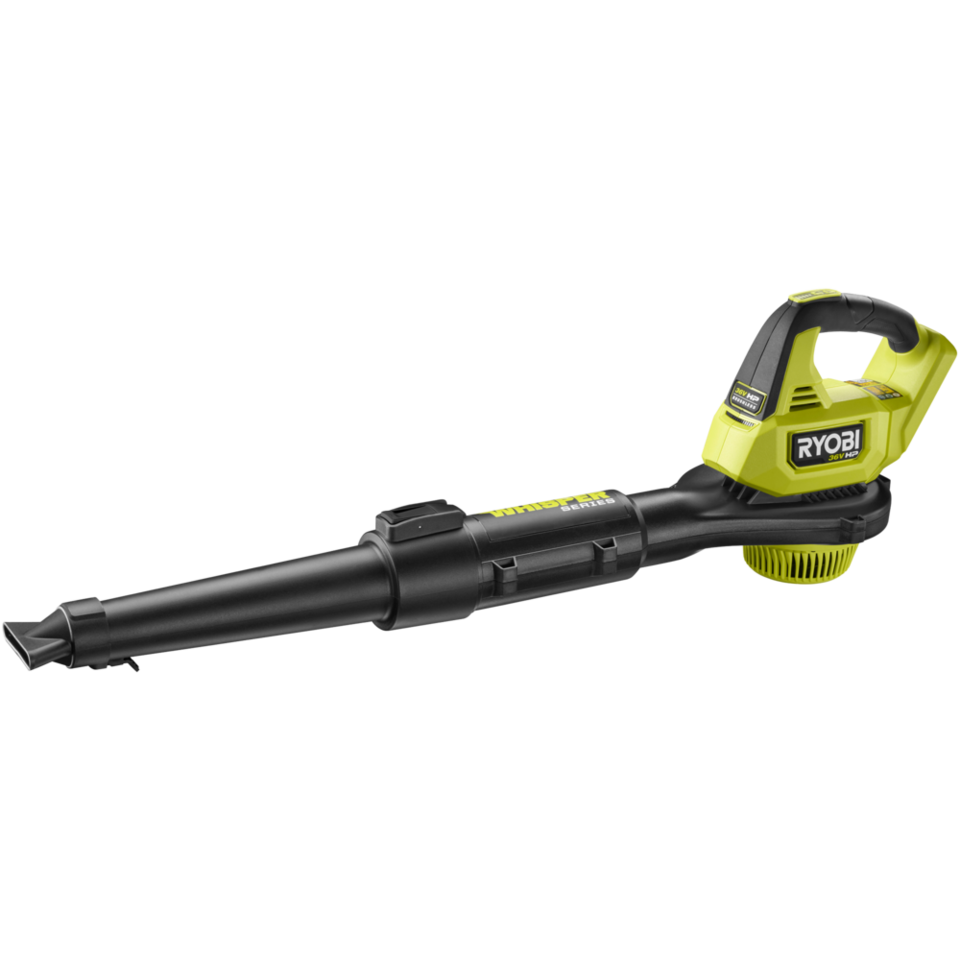 36V HP™ BRUSHLESS GARDEN BLOWER - TOOL ONLY (R36XBLWC0)
127% more blowing power than previous model (RBL3600)

Whisper Technology™ reduces sound output

Maximum a 339km/h air speed, 191CFM