WORKSHOP STORAGE SOLUTION
Shane shares his insights into a great garage storage solution, where there is a place for everything, and everything is in its place.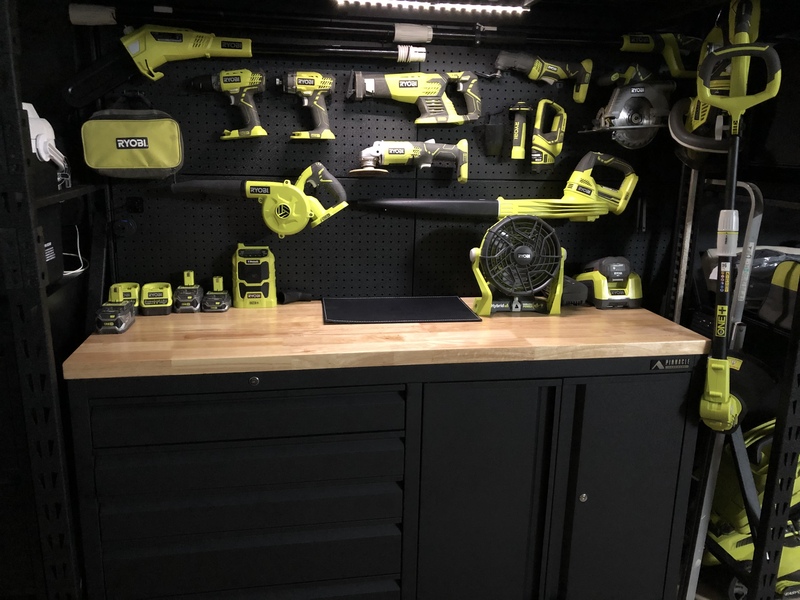 Where did you get your inspiration from?
Like many garages, ours was always messy – nothing really had a home and it became cluttered quickly, no matter how hard we worked to keep it organised.
We searched for solutions and inspiration in lots of forums and Facebook groups but it was clear, this room of the house was neglected.
We knew we had a lot of RYOBI tools that would look great stored all together, so started planning how the rest of the garage would look with that being a feature. We decided to go all out with black because it would be something different but also felt it would be neat.
How long did it take to complete?
Just one weekend! We planned it through the week and added stuff to our Bunnings cart, then did a 'click and collect' to be picked up on the Friday night. We painted the fridge the weekend before just so it was dry and could be moved around.
What skill level will I need to complete it?
A beginner DIYer could definitely take on this project. We added a VJ (vertical joints) wall, which took me about 4 hours. That's probably a bit more at the intermediate level. But, if you can paint a wall and use a rubber mallet, you can do most of this yourself in a weekend.
What was your budget?
Our budget was AUD$1500 (we owned all the tools). We went a little bit over budget but we were able to sell some of the clutter from the garage and bring the cost down a bit again. We were surprised how much was being stored that we really didn't need.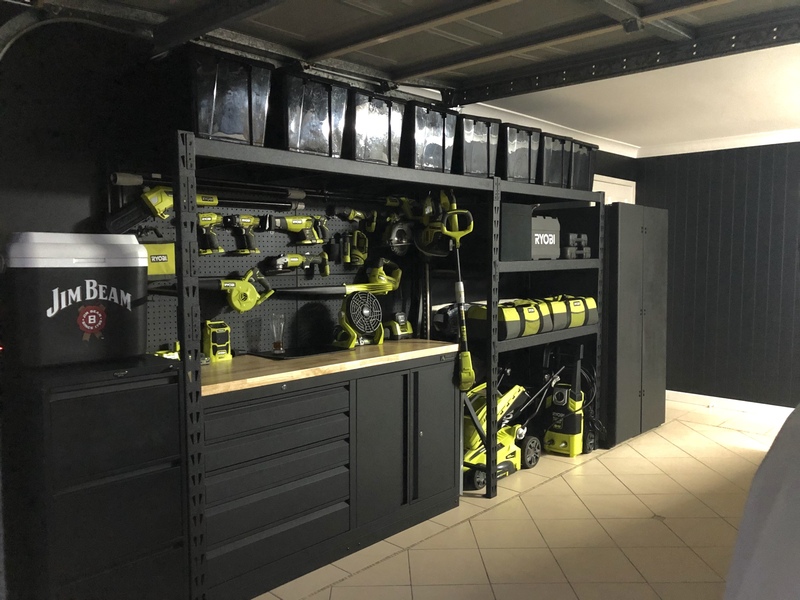 What materials did you use?
We added a VJ wall, which also required new skirting boards, adhesive and some nails. This only added about AUD$240 to the makeover cost. You could paint any existing walls with your choice of colour if you didn't want to add this.
We painted the ceiling and cornices in crisp white and the walls in a pure black. This made us nervous. We love white walls, so we were hesitant to put that black roller to the wall. But we knew it would look great against the tools!
Our garage gets a lot of sunlight so we choice an exterior paint on the walls. We did our research and found this was a better option as well if you were painting the walls black, as the exterior paint required 2 coats instead of 3.
The shelving was fast and easy! They knock together with a rubber mallet. You could build this out of timber if you had the time.
We used metal paint and primer for the fridge. Chalk paint is a great alternate if you wanted something a bit quicker and prefer water-based products. We blacked out the window we didn't use behind the tool wall.
What tools did you use?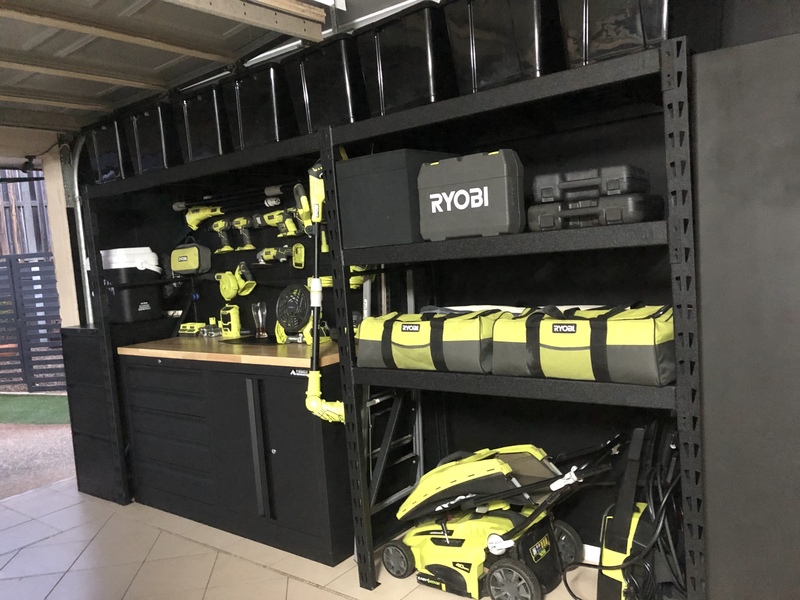 What was the toughest part of the project where extra care or attention to detail was required?
The pegboard was a bit fiddly to put together and hang. We wanted a metal one so some of the heavier tools could be hung with the others. But this is something I would recommend putting together earlier in the day! I would build the racks in the middle of the floor and push it back into place, this will give you the room you need to build something like the tool board.
What would be the easiest way to modify your design to suit my space (can I make it bigger, smaller, easier, cheaper, textures, colours, materials) – if appropriate?
The racking system was great value for money, we chose the lower height so we could add storage boxes with rarely used items along the top. If you had a bigger space and smaller budget, you could use the lower weight-rated racking system or timber. I really think painting our fridge and using our old black filing cabinet gave us those clean lines, and made the room feel less cluttered.
What are you looking forward to tackling next?
My wife would say the walk-in robe! But I'm part-way through making cedar plantation shutters on our deck. So, I guess after that some storage in the wardrobe might be on the cards.