THE ULTIMATE LONG WEEKEND CAMPING CHECKLIST.
Camping is a great way to explore the country and get away from the hustle and bustle of your everyday life. But a poorly planned camping trip is anything but relaxing. So before you hit the road, check out our camping essentials list for a full guide of everything you need to make this weekend's camping trip your best ever.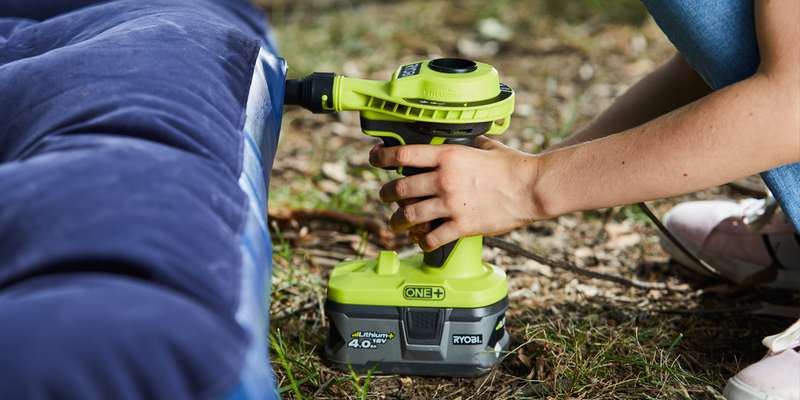 SHELTER, SLEEPING AND RELAXING.
Just because you're sleeping away from the comforts of home doesn't mean you can't snooze in comfort. To kick it off, let's look at what you should pack in order to catch some z's during your weekend in the bush.
Tent: Well, duh! When you're packing away your tent, don't forget all the necessary poles, ropes, and pegs. If you're using a newer style of peg, you can use an impact wrench or impact driver (with socket adapter) to drive them in.
Blow up mattress: This one's key to a good night's sleep. And don't forget to pack your ONE+ Inflator so that you can save your breath for campfire songs.
Pillows, blanket and sleeping bags.
Camp chairs and a foldable table.
A marquee or portable shade sail so you can lounge all day.
Tent lights: Are you afraid of the dark? You might be if you don't have a torch in your tent. The ONE+ Camping and Outdoors range has lighting solutions for every camping need.
Check out camping expert Mick's guide to campsite lighting.
You can whip up some delicious meals on a camping trip. Whether you're roasting snags on the campfire or going a bit more gourmet, here's what to pack for the ultimate camp kitchen.
Cooking stove and fuel.

The RYOBI Fridge Freezer to keep your food and drinks cool.

Firewood and kindling: Make sure you check the fire warnings in the area you're visiting before lighting a fire.
Plates, mugs, bowls, and cutlery: If you go camping often, consider investing in a reusable set. Not only will it fare better outdoors, it's much better for the environment.

A kettle or coffee maker.

Steel scrubbers and sponges.

Frying pans and pots.

Chopping board.

Tupperware, plastic bags, aluminium foil and plastic wrap for storing food.

Can opener, potato peeler, and other essentials for meal prepping.

Camping lantern or a tripod worklight so you can keep cooking even after it gets dark.
The RYOBI bug zapper lantern to help control flying insects and bugs.
Of course, don't forget to pack plenty of meals! We find it's best to prep some camping meal ideas ahead of time and then pack only what you need so that you don't end up hauling unnecessary food. Foil packets make great meals while camping. Just throw the protein and veggies of your choice in some aluminium foil and cook it over the campfire. Other food to take camping is your favourite fruits and veggies, plus snacks like muesli bars, and nuts.
CAMPING TOOLS TO BRING ALONG.
You don't need to take your entire tool collection along when you go camping, but a few key tools could be a big help if you find yourself in a sticky situation. Here are the tools to keep in your camping collection.
Multi-tool, such as a Leatherman or Swiss Army knife.

Foldable shovel with a sharp blade. This is handy for digging a fire pit or toilet, and for digging out car wheels when it's time to pack up.

Chainsaw: This will be a huge help for cutting firewood.
Impact wrench: If you're driving long-distance or on corrugated roads, it's a great idea to check your wheel nuts on arrival and before you head back.
Mick shows us how he uses his ONE+ tools when he's camping.
ITEMS FOR A CLEAN & SAFE CAMPSITE.
If you like to keep your home nice and tidy, why not do the same with your campsite? Pack these items to keep your site in tip top shape, and help you leave no trace.
• Dish-washing basin and garbage bin.
• Kitchen towels, tea towels, and paper towels.
• Hand vac: This will be useful to keep your car clean throughout your trip and is also great for keeping your tent or swag clean.
• Blower: A blower can actually serve multiple purposes on your camping trip. Use it to keep your campsite clean and to get your campfire going.
First aid kit: It's wise to keep one of these in your car at all times, but is especially helpful when you're camping. Make sure your first aid kit includes things like antihistamines, tweezers, and moleskin or blister tape.

Sunscreen, aloe and bug spray.

Check out Mick's camping tips in the video below.
While these items may not exactly be camping essentials, they can make your trip much more enjoyable. Consider packing these creature comforts.
Fan: A small fan is great for keeping your tent or cooking area cool, especially in warmer months.
Bluetooth Radio: Get the party started with some tunes. Just be respectful of your neighbouring campsites!
Games and entertainment: A pack of cards or other games definitely should go on your family camping checklist.

Chargers: The ONE+ Fast Charge is great for keeping your devices charged throughout the trip.

Binoculars: You can see some pretty amazing creatures out in the Aussie bush, so a pair of binoculars comes in handy.
Get more tips for camping comfortably with ONE+.
And just like that, you're ready to go explore the great outdoors! Before you go, make sure to charge your batteries. Since one battery can power the entire ONE+ Camping & Outdoors range, you're sure to get plenty of use out of it. Check out these tips from Mick on how to charge your portable batteries while you're on the go.
WITH ONE BATTERY POWERING OVER 1OO TOOLS, YOU CAN CREATE JUST ABOUT ANYTHING WITH THE ONE+ SYSTEM.